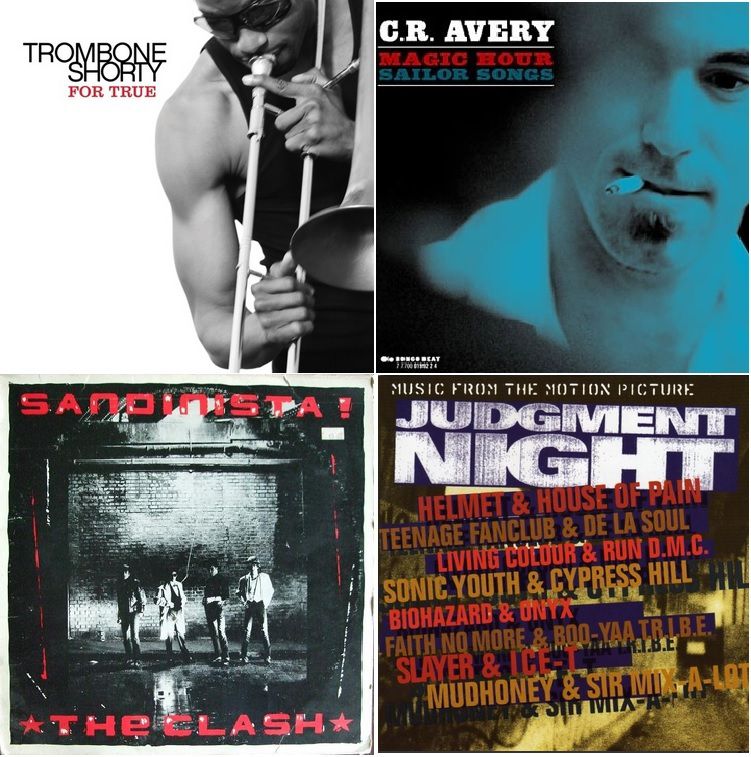 Trombone Shorty - For True (2011) : For true is more than a jazz album, it's an attempt to unite various music genres on their common denominator : the wind instruments. It's a fresh air of new ideas...as groovy, jazzy, funky a New Orleans parade can be !
C.R Avery - Magic Hour Sailor songs (2007) : A magical moment of poetry, blues, spoken word, hip hop beatboxing and rock'n'roll by a one-man band. An under-rated genius, a 21st century mutation of Bob Dylan, Tom Waits or Beck ?!
Clash - Sandinista (1980) : The peak of the Clash was this multi-direction and unclassifiable album. 36 tracks, 6 on each side of the 3 records, flow like a river through rock'n'roll, reggae, jazz, gospel, soul and dub... Essential !
Judgement night soundtrack (1993) : How a soundtrack can be more successfull than a movie ? By making duets between hip hop and metal bands ! The result is amazing, just like the list of all tthe artists that made this cross-over album possible : House of Pain, Run DMC, Faith No More, Slayer, De La Soul, Onyx, Sonic Youth, Cypress Hill, Pearl Jam, Biohazard, Dinosaur Jr, Boo Ya Tribe etc...
Pour être informé des derniers articles, inscrivez vous :